Bedwetting FAQs Answered
Is bedwetting normal?
The first thing to realise about bedwetting is that you are not alone. In fact, parents are often very surprised when they hear how common it actually is. It is estimated that approximately 15 - 20% of 5 year olds wet the bed on a regular basis. So in a class of 20 kindergarten children, that is at least 3 children. This drops to around 10% by age 7.
What age should my child stop wetting the bed?
The time between achieving day time continence and night time dryness can vary from child-to-child and many children continue to wet the bed up to the age of 5 or 6.
Does deep sleep cause bedwetting?
While deep sleeping is not the cause of bedwetting, children who sleep very soundly do find it particularly difficult to respond and wake up to a full bladder. And therefore are slightly more likely to wet the bed.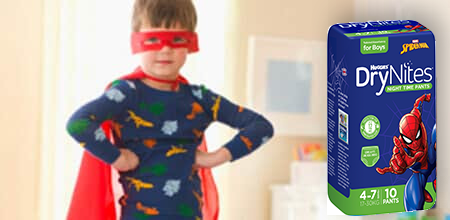 DryNites® Night Time Pants
DryNites® Night Time Pants are a discreet, comfortable and absorbent form of bedtime protection.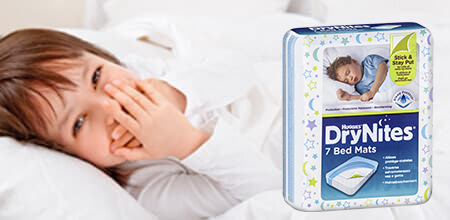 DryNites® Bed Mats
DryNites® Bed Mats combine the security of a bed protector with the convenience of a single-use disposable cover.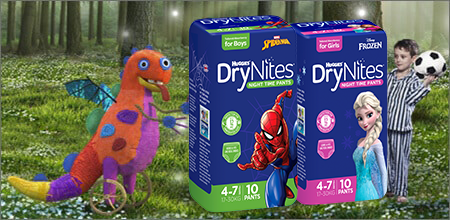 DryNites® Request a sample
DryNites® Night Time Pants help kids stay dry. Request a free DryNites® Night Time Pants sample today.
Customer Reviews
Nice job on Macking themm my daughter is 15 and still west the bed I tried bulkey nappies Every one laughed at her then a friend said drynites
I bought this product a month ago and my son would poop and Pete the bed until I bought this product. It is amazing
Kept my daughter dry all nite .easy to check ..no need to open because it shows on outside of nappies ..removable is just a rip and they are off.easy to put on and comfortable for your child.
Great for night time accidents
They were great at holding everything in and not leaking everywhere, i was told they were comfortable and felt like underwear so they didn't feel embarrassed.
Our go to for night time toilet training
I have a 6 year old whom uses nappy pants for bed time and can be quite fussy as he's getting older as to what fits right and feels comfortable. These are 100% our go to, he is happy and feels confident wearing them in knowing he won't wake up in a puddle! Plus the characters and graphic design on the pants gets him excited for bed time!