Bedwetting FAQs Answered
Is bedwetting normal?
The first thing to realise about bedwetting is that you are not alone. In fact, parents are often very surprised when they hear how common it actually is. It is estimated that approximately 15 - 20% of 5 year olds wet the bed on a regular basis. So in a class of 20 kindergarten children, that is at least 3 children. This drops to around 10% by age 7.
What age should my child stop wetting the bed?
The time between achieving day time continence and night time dryness can vary from child-to-child and many children continue to wet the bed up to the age of 5 or 6.
Does deep sleep cause bedwetting?
While deep sleeping is not the cause of bedwetting, children who sleep very soundly do find it particularly difficult to respond and wake up to a full bladder. And therefore are slightly more likely to wet the bed.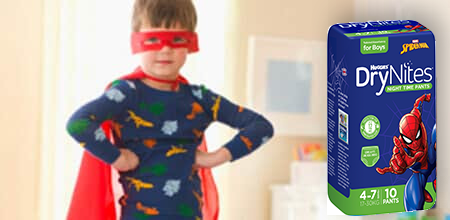 DryNites® Night Time Pants
DryNites® Night Time Pants are a discreet, comfortable and absorbent form of bedtime protection.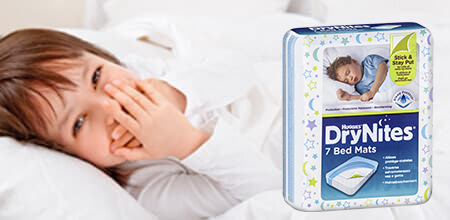 DryNites® Bed Mats
DryNites® Bed Mats combine the security of a bed protector with the convenience of a single-use disposable cover.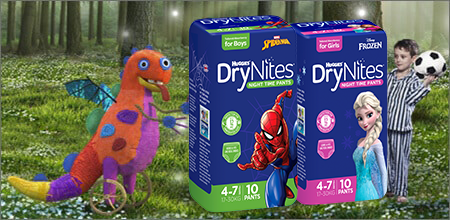 DryNites® Request a sample
DryNites® Night Time Pants help kids stay dry. Request a free DryNites® Night Time Pants sample today.
Customer Reviews
We found them to be extremely convenient as our child goes to the toilet by herself. They are easy to pull up and down without assistance from us. They are a great fit for our daughter however it could be a tight fit for children with thicker thighs. The cute Disney prints means our daughter loves them.
Huggies dry items are very good.They are absorbent and fit relatively well.No issues with rubbing or nappy rash while using this. Definitely would recommend these great nappies pants.
Huggies DryNites Night Time Pants for Boys are fantastic. They kept my son dry through the night. The pants are slim and discreet with fun Spiderman graphics!
Works well and has a new fun print.
The Huggies night time nappies work well for my toddlers. They were comfortable for both my 2yr old twins and 4yr old. They all loved The Little Mermaid print. Held all the overnight wetness in and didn't leak on clothing, easy for them to slide on all by themselves.
The Huggies dry Nites fit a dream, slim and super Comfy to wear and where not seen under his PJ's at all. His had his first sleep over with a friend and his friend could not tell. It was a relief that his little friend could not tell, what was hiding underneath his PJs pants.